Midway IGA
Recipes
http://midwayiga.iga.com/Recipes/Detail/4372/Irish_Potato_Casserole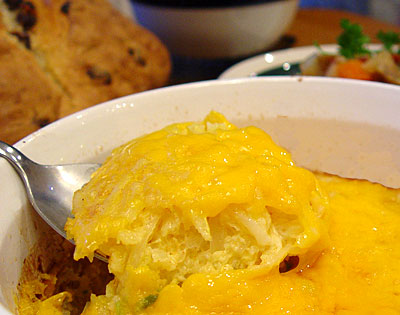 Irish Potato Casserole
Customer Rating:
1 Ratings 1 Comment
Yield: 6 servings
Directions:
Preheat oven to 350 degrees. Coat a 1 1/2-quart baking dish with cooking spray.

In a medium bowl, combine the potatoes, butter, eggs, onion, salt and paprika. Mix well.

Place potato mixture into the prepared baking dish and pour milk over top. Bake in a preheated oven for 40 minutes. Sprinkle top with cheese, return to oven and bake until cheese melts and is slightly browned, about 5 minutes.
Please note that some ingredients and brands may not be available in every store.
Midway IGA
Recipes
http://midwayiga.iga.com/Recipes/Detail/4372/Irish_Potato_Casserole
.